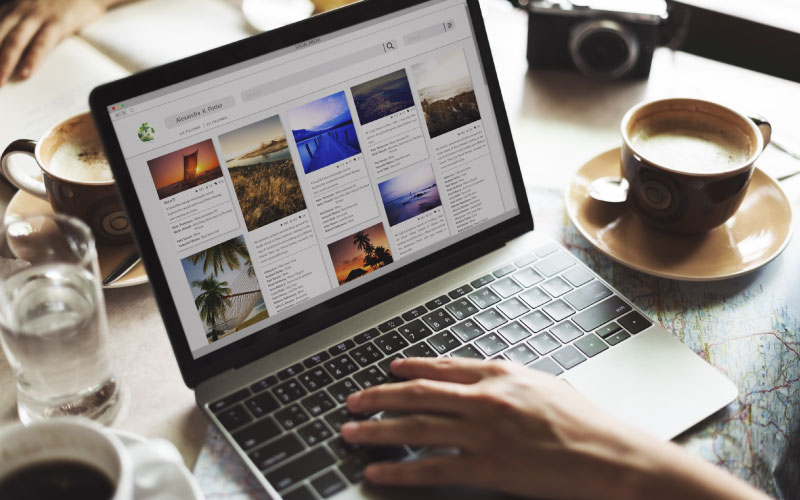 From viruses and worms to ransomware attacks, many cyber threats are hiding on the massive world wide web. This means that there is only one thing left to be done – ensure that everyone is following at least the necessary internet safety measures. Here are five recommended steps to better Internet safety:
1) Review temporary internet files and why it is important to delete temporary files
Only retain temporary Internet files until closing your browser whenever possible. It is recommended to configure your favorite browser to clear cookies and cache upon closing. Browsing history does not need to be stored in your browser for extended periods of time (or indefinitely). Review your specific settings and configure to meet your personal preference. Examples include keeping history for 30 days, never remembering history, or a customized history retention policy. It is very important to try and delete temporary files at the end of each browsing session as it can aid in reducing adware, spyware, and other targeted marketing attempts, which may use browser metadata (browsing history, cookies, logons etc.) to target your machine.
2) Removing spyware and how often you should check for spyware
Depending on the specific type of machine you own, spyware attacks may vary. Many options, such as Malware Bytes, Super Antispyware, and other sources, offer reputable solutions. Due to the evolving threat computer users of all types of operating systems face. It is recommended to schedule regular scans a minimum of once a week.
3) Monitoring and blocking unwanted incoming files and information from the web
Monitoring and blocking incoming unwanted files and information from the Internet can be a challenge. A variety of ad-blockers and other add-ons for secure browsing are available to help prevent files from downloading and installing without authorization. Additionally, it is vital not to open an email or click links from unknown senders or sources that appear suspicious. Even when accepting download links and other files from known sources, it is highly recommended to double-check the validity by speaking to the sender directly (if possible), and finally by verifying the URL or email address has not been spoofed by using various verification resources available. Hover over links before clicking to check for obvious signs of URL tampering.
4) Using safety and security tools available on typical home computers
For Mac users, there are a variety of built-in security tools available. An excellent way to help secure your Mac is to enable full disk encryption through the FileVault. A similar option is available for Windows users using the BitLocker application. Additionally, setting a strong password and enabling the built-in firewall to help protect your machine from malicious activity and unauthorized connections. For Microsoft users, Windows has enabled the Windows Defender application, which works in conjunction with the Windows Firewall to protect users. There is also the user access control (UAC) function, which provides an added prompt screen when attempting to install a new program or make changes to the operating system (OS).
5) What are "updates" and why should you install them?
An update can be described in general terms as a type of patch/fix or enhancement to an application or operating system (OS). Sometimes an update may only modify the user interface (UI), while other updates may not only give an OS a facelift but also may have modified important system files in order to secure it or mitigate some other type of vulnerability. System security updates and patches are extremely important for any type of OS. Many times when an update is released, users either do not know if they should install it or many times they completely ignore it. It is common for those not as tech-savvy to underestimate the importance of regularly applying updates. Many feel the update procedure is more of an inconvenience than it is beneficial due to the restarts and downtime associated with some updates.
All the above-stated recommendations with many other security best practices are covered under the EC-Council Global Service Training solution. As human error can lead to massive security breaches, consider a training and awareness program that can help your employees to adopt the basic internet safety practices. With the help of our training, you will be able to protect various information assets of your organization.
Engage with EGS!
Gain greater confidence in your cybersecurity decisions by working with EC-Council Global Services' thought leaders to apply our solutions to your specific business and technology initiatives.

Posture Assessment Survey  

An independent expert assessment of the current state of information security environment is conducted against global standards and leading industry practices to measure the overall cybersecurity maturity of your organization.

Connect with us to take a FREE 15-Minute Survey. This will be followed by a remediation plan of the identified gaps and the development of a roadmap for transformation.

FREE Phishing Simulation 

To assess your organization's human error vulnerabilities, take OhPhish's FREE subscription to run simulated Phishing attacks and get a detailed, actionable report.

OhPhish is the fastest growing integrated platform for security awareness training. You can train your users, phish them, review results, and repeat to ensure your company is on top of this game.

Vulnerability Assessment & Penetration Testing (VAPT) 

EGS offers a broad range of network infrastructure, web applications, and mobile application security assessment services designed to detect and gauge security vulnerabilities. Take the FREE VAPT for up to 10 external IPs, worth USD 5000 and get a customized report!