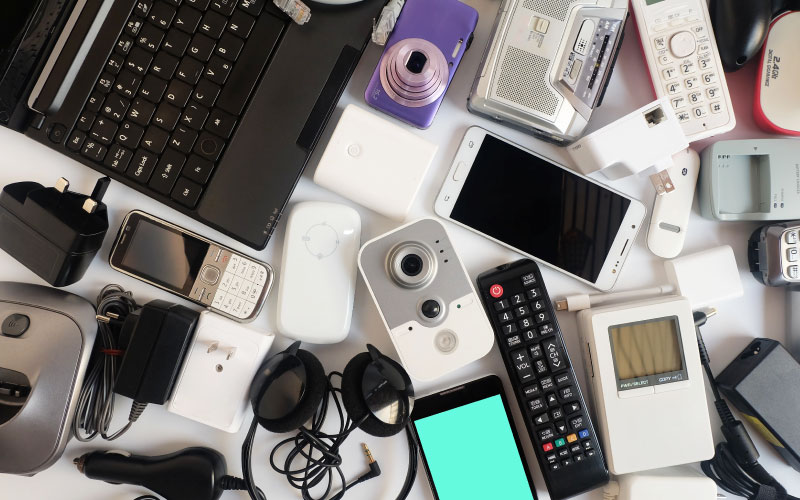 Will technology overload result in the loss of human touch?
In a world of relentless connectivity to phones, tablets, and other electronic devices, it can be challenging to differentiate between the cyber and physical domains. Most of us interact with one or more types of electronic devices multiple times throughout the day. For many, this comes in the form of a smartphone, tablet, smart home device(s) (Wi-Fi connected thermostats, appliances, locks, etc.), an autonomous vehicle that can pull off the perfect parallel parking technique in the most difficult of spots for most humans, or a combination of all of this, and more. This may just lead to major technology overload, bringing about the loss of human touch.
From the moment we wake to the moment we lay down to sleep, our mind, body (and possibly even souls) communicate not only with fellow humans-beings, but also hundreds and even thousands of other networked devices and nodes globally, through what is now referred to as the Internet of Things (IoT). Human interaction with these devices could be considered a separate language of its own. Most computerized systems must first learn some basic human behavior patterns to adhere to and adequately comprehend voice commands and requests.
How to Protect 30bn IoT Devices
What does all of this mean?
Is constant mind stimulation by means of IoT devices preventing the healthy flow of everyday communication with our fellow humans? Could prolonged Human-Computer Interaction (HCI) actually be hindering our ability as a tech-hungry society to distinguish between the basic physical aspects of life and those limited to the cyber realm? Ultimately the answer lies within the minds of end-users. Some believe there is no need to be concerned, and others lean towards a more conservative and limited approach to the use of technology as a whole. Companies such as Apple, Android, Google, and others have released features that are designed to aid in tracking and limiting screen time on their devices. Although the main purpose of such features appears to target children and younger adults who never leave their device behind, it may prove useful for others to do the same.
Have you ever noticed the number of individuals on any given day who are completely oblivious to the real world because they are buried in their mobile device? If your answer is "yes," then you are not alone. Being bilingual (fluent in human-to-human and human-to-computer interaction) while at the same time balancing the physical and cyber realms may not be as easy of a task as one may think. This is simply due to the number of electronic distractions we are faced with (both willingly and unwillingly). A simple face-to-face conversation with family, friends, or co-workers while checking the latest feed on social media, watching your favorite newscast or video feed may actually be preventing most humans from dedicating undivided attention to the real-life, physical environment they are present in. Take for example the average number of people commuting to and from work, school, or other destinations while plugged into a phone, tablet, or other device using some type of portable audio functionality such earphones or earbuds streaming media, talking, or perhaps even listening to an audiobook or music. In today's connected world, not seeing someone fitting a similar description such as this would be out of character for most.
At some point, we, as the users of the limitless world of IoT, must decide whether or not we will dominate our device, or our device actually begin dominating us. Furthermore, we as a society should consider whether the ever-increasing and rapid transformation from less human interaction to a futuristic and more machine-centric characteristic is what we actually want. Regardless of what the future of technology may hold, the likelihood that IoT or other forms of technology can effectively replace or somehow simulate a bonafide human touch remains slim to none (for now).
Engage with EGS!
Gain greater confidence in your cybersecurity decisions by working with EC-Council Global Services' thought leaders to apply our solutions to your specific business and technology initiatives.

Posture Assessment Survey
An independent expert assessment of the current state of information security environment is conducted against global standards and leading industry practices to measure the overall cybersecurity maturity of your organization.
Connect with us to take a FREE 15-Minute Survey. This will be followed by a remediation plan of the identified gaps and the development of a roadmap for transformation.
FREE Phishing Simulation
To assess your organization's human error vulnerabilities, take OhPhish's FREE subscription to run simulated Phishing attacks and get a detailed, actionable report.
OhPhish is the fastest growing integrated platform for security awareness training. You can train your users, phish them, review results, and repeat to ensure your company is on top of this game.
Vulnerability Assessment & Penetration Testing (VAPT)
EGS offers a broad range of network infrastructure, web applications, and mobile application security assessment services designed to detect and gauge security vulnerabilities. Take the FREE VAPT for up to 10 external IPs, worth USD 5000 and get a customized report!