About EGS (EC-Council Global Services)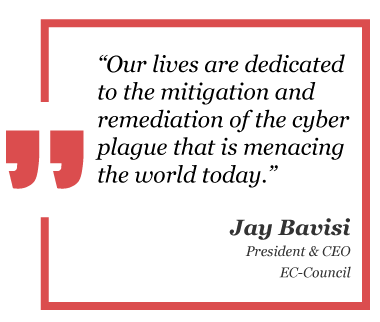 Who We Are
EGS is a division of the International Council of E-Commerce Consultants, also known as EC-Council.
We are the world's largest cyber-security technical certification body. We operate in 140 countries globally and we are the owner and developer of the world-famous Certified Ethical Hacker (CEH), Computer Hacking Forensics Investigator (C|HFI), Certified Security Analyst (ECSA), and the License Penetration Testing (Practical) programs. We are proud to have trained and certified over 150,000 information security professionals globally who have influenced the cyber-security mindset of countless organizations worldwide.

The EC-Council Global Services division houses some of the finest information-security professionals around the globe.
It is a division that is dedicated to help organizations understand and manage their cyber-security risk posture effectively. We specialize in developing information security knowledge, methodologies, and policies pertaining to information security consulting and managed services. EC-Council's proprietary Licensed Penetration Testing methodology is tried, tested, and endorsed by thousands of penetration testers and information security experts across the globe, many of whom are working for Fortune 500 companies.
We help our clients make informed business decisions in order to apply their resources to protect their organization. We have over 20 dedicated cyber-security practice areas informed by the best cyber-security practitioners, each of whom have dedicated their lives to defending organizations from cyber-attacks.
Enterprises hire us as their trusted advisors and our philosophy of "Client First" permeates through the entire organization, even in the most demanding of times.