Top Cybersecurity Services That
You Need to Stay Safe

What Is Data Governance?
Millions of people have had their personal information lost or stolen in data breaches or cyberattacks.
Data breaches can be multi-faceted and are not only the result of accidental or unlawful destruction or loss of data but can include the unintentional or malicious alteration, transmission, and the unauthorized disclosure of data. Thinking about this broad spectrum of threats, we understand that every sector imaginable, from government databases to health records and financial data, can be affected.
Data Governance ensures high data quality exists throughout its lifecycle within the organization. The key focus areas of Data Governance include confidentiality, integrity, availability, accessibility, and non-repudiation of data owned and managed by the organization. All aspects, including people, processes, and technology, need to be addressed while implementing a comprehensive Data Governance Framework to effectively ensure that data is consistent throughout the lifecycle, not misused, and achieves its business goals.
Why Is It Required?
Data is the lifeline of almost all businesses in today's world. Data that is not governed or managed appropriately can cause significant losses to the organizations. These include:
Loss/leakage of data: Data Governance helps in the identification, classification, and appropriate handling of data within the organization. When these are not implemented effectively, it isn't easy to track and protect data.
Regulatory non-compliance: It helps prepare any organization to comply with applicable regulatory compliance such as GDPR (General Data Protection Regulation).
Ineffective use of data: It is not possible to harness the power of data through processing or analytics if it's not appropriately governed.
Who Needs It?
As data is the backbone of every company, organizations must have an effective data governance program to protect their data assets
Organizations that understand the importance of formally, proactively, and efficiently managing data throughout its lifecycle to safeguard the confidentiality, integrity, and authenticity (CIA) of their data
Organizations that want to improve their internal & regulatory compliance efforts
Organizations that are obliged to process data in accordance with their contractual obligations
Organizations that handle customer and client data
Why Should You Consider Data Governance?
It helps you to gain a more accurate insight into not only your organization's data-related activities but also surrounding your regulatory and compliance activities
It helps you to standardize your policies, processes, and procedures to gain better control of your data assets
It helps you to preserve your brand and maintain your customer's trust and demonstrate that you are more than capable of protecting their sensitive data
Methodology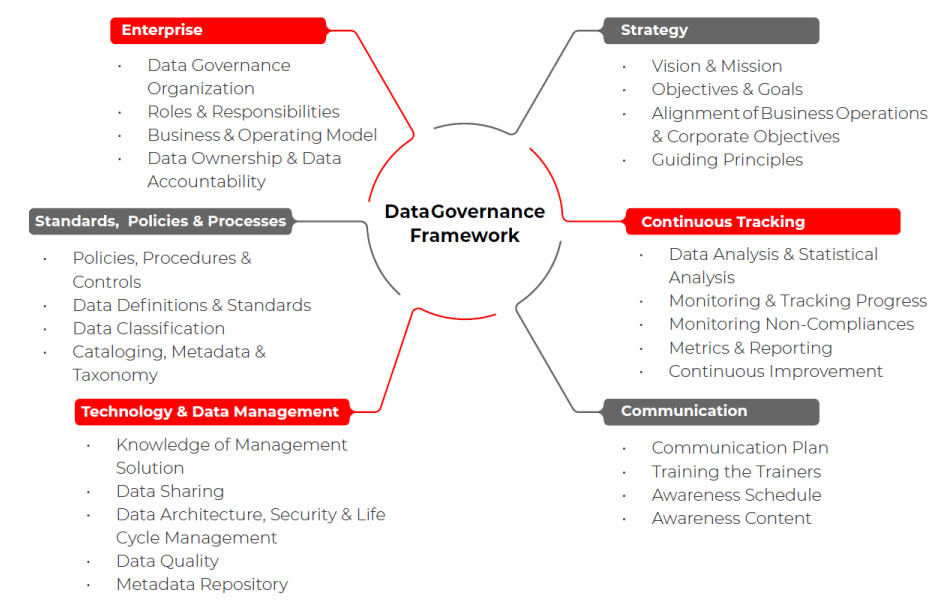 Why EGS?
EGS comprises advisory and technical teams with years of corporate, field, and consulting experience in information security. Our accomplished team allows EGS to demonstrate a vast knowledge of industry standards, benchmarks, and best practices that assure the best solution is offered to our clients. Each consultant assigned to the clients is a noted and published expert in his or her respective fields. Information security, operational risk consulting, and advisory is the sole focus of our practice and not the side-line interest of a general consulting company.
As an addition, EGS assigns a team of professionals' onsite and can make available a much broader team of exceptionally credentialed operational risk and resiliency experts – in business continuity management, IT disaster recovery, emergency, and crisis management, cybersecurity forensics, and crisis media management strategy at our client's disposal, if required.
Even more broadly, EGS is dedicated to helping organizations protect and enhance enterprise value in an increasingly complex legal, regulatory, and economic environment – with consulting professionals helping anticipate, illuminate and overcome complex business challenges. EGS has the reach and expert resources located globally to provide our clients with broader expertise in this area.
Benefits
| | |
| --- | --- |
| | We have a team of professionally trained, certified and highly experienced cybersecurity consultants |
| | |
| --- | --- |
| | We can help you to ensure that your important data assets are formally and effectively managed throughout your organization |
| | |
| --- | --- |
| | We can help you to meet regulatory requirements |
| | |
| --- | --- |
| | We can help you to ensure that data quality, including accuracy, completeness, and consistency, is improved |