Top Cybersecurity Services
You Need to Stay Safe

Phishing Simulation
Fortify your weakest links before it's too late!
Phishing is still one of the main causes of data breaches. As fraudsters continue to come up with innovative ways to trick end users into giving up their personal information, it is important for businesses to strengthen their first line of defense — their employees — to avoid falling prey to such attacks.
Phishing simulations, when combined with a wider security awareness training program, can help create a robust security culture across your organization.
Phishing simulations allow organizations to test the susceptibility of their employees to phishing attacks and enhance their security awareness. For example, when an employee falls for a successful phishing attack either by clicking on an unknown link from a suspicious email or entering their login credentials into an untrusted site, their actions will be recorded, reported and immediate feedback and additional training would be given to them.
Why Is It required?
Identifying email, voice, and SMS scams is not always a straightforward process.
Phishing simulations can help organizations improve their employees' security awareness because they mimic real-life attack scenarios — only without the risks that usually accompany one. Not only do phishing simulations teach your employees how to spot phishing scams in order to avoid falling prey to them, they also help measure your organization's responsiveness towards social engineering attacks.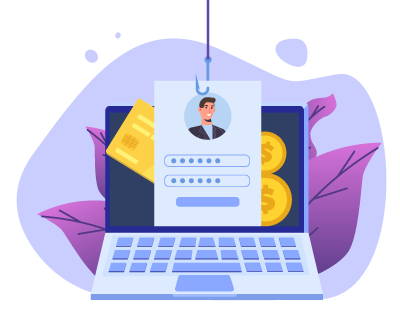 Who Needs It?
Organizations that understand the importance of taking data security seriously
Organizations that offer their services to other clients, and have access to their critical data
Organizations that want to identify weaknesses in their organizations and empower their employees to better protect their organizations
Organizations that want to mitigate cyber risks that are associated with human error
Organizations

that want

to get an accurate view of the effectiveness of their security awareness training program
Why Should You Opt for Phishing Simulations?
You can test your employees the same way a cybercriminal would and gauge their understanding of the dangers associated with phishing attacks
It helps you identify employees who are vulnerable to phishing attacks and provide them additional training
It helps you define effective and meaningful KPIs or KRAs at an individual or team level.
It helps you inculcate a culture of reporting within your organization. In doing so, your employees will understand the importance of reporting phishing scams so that your IT department can take appropriate actions.
EC-Council Global Services Methodology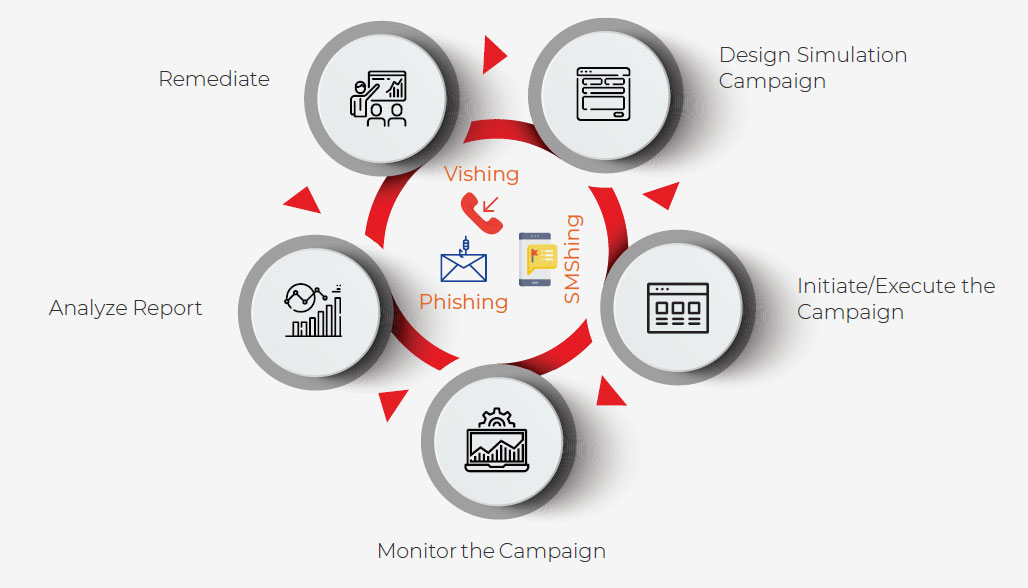 Why EGS?
EGS comprises of advisory and technical teams with years of corporate, field, and consulting experience in the field of information security. Our accomplished team allows EGS to demonstrate a vast knowledge of industry standards, benchmarks, and best practices that ensure the best solution is offered to our clients. Each consultant assigned to a client is a noted and published expert in his or her respective fields. Information security, operational risk consulting, and advisory is the sole focus of our practice, and not the sideline interest of a general consulting company.
EGS assigns a team of professionals' onsite and can make available a much broader team of exceptionally credentialed operational risk and resiliency experts in business continuity management; IT disaster recovery, emergency, and crisis management; cybersecurity forensics; and crisis media management strategy at our client's disposal.
Even more broadly, EGS is dedicated to helping organizations protect and enhance enterprise value in an increasingly complex legal, regulatory, and economic environment, with consulting professionals helping anticipate, illuminate and overcome complex business challenges. EGS has the reach and expert resources located globally to provide our clients with broad expertise in this area.
OhPhish's solution for phishing simulations leverages cutting-edge technology to test and fortify your most vulnerable asset — your people.
Our solution includes phishing, SMiShing, and vishing in a single revolutionary platform, all integrated with e-Learning and gamification modules in a learning management system (LMS), which can help your organization to gain valuable insights into your employees' susceptibility to social engineering attacks.
By combining testing and learning through simulations, LMS, and gamification modules, OhPhish will give users a learning experience that is fun and interactive. Our platform allows you to capture responses and get customizable detailed reports and trends (on a real-time basis) that can be tracked by the user department, designation, office, etc.
Depending on your requirement and the security policy of your organization, we provide you with the option to either host our solution completely on your premises, partly on the cloud and, partly on your premises (hybrid) or completely on the cloud.
Our solution — which is automated, easy-to-use, and scalable — can cater to any organization, be it SMEs or multinational companies, and help them address the most topical cybersecurity concerns.
| | |
| --- | --- |
| | We have a team of professionally trained, certified and highly experienced cybersecurity consultants |
| | |
| --- | --- |
| | Our solution includes phishing, SMiShing, and vishing in a single revolutionary platform, all integrated with e-Learning and gamification modules in a learning management system (LMS) to help prepare organizations protect their businesses against real-life phishing attacks |
| | |
| --- | --- |
| | We provide end-to-end simulations that will trigger customized email phishing, vishing and SMiShing campaigns to a selected group of employees, track their responses on a real-time basis and provide training to those who have failed the phishing test |
| | |
| --- | --- |
| | We are committed to helping organizations gain valuable insights into their employees' susceptibility to real-life phishing attacks |
| | |
| --- | --- |
| | We have worked with many clients from multiple industry sectors across the globe |