The big projects require a team with specific skills and abilities to pick up various tasks. Forthwith, the organization's concern is to hire required suitable staff who are skilled to begin the task as early as possible. To deal with this situation effectively, augmenting staff can go a long way in obtaining necessary staff as and when required. EC-Council Global Services (EGS) brings enriching experience in offering services of staff augmentation in Indonesia, specific to Bali and Jakarta. Nevertheless, our staff augmentation services in Indonesia are scalable, timely and economical.
By embracing digital technology, Indonesia can increase its economic
growth by US$150 billion, or 10% of its Gross Domestic Product (GDP), by 2025." McKinsey
Indonesia stands fourth-largest internet users in the world with great opportunities as well as, significant threats to digital technology and internet.
However, Indonesia seeks to have solid cybersecurity workforce who can secure 150 million internet users. Though the government has issued regulations, the skilled expertise is the need of an hour.
Therefore, augmenting cybersecurity resources become crucial to provide robust cyber defense. EGS is specialized to meet all the requirement of cybersecurity staff augmentation in Indonesia. We are backed by a pool of certified and skilled workforce.
"One of the needed reserve components is educated staff or human resources in the field of cyber security," said the chairman of the Communication and Information System Security Research Center (CISSReC).
What is staff augmentation?

Staff augmentation stands for outsourcing the requirement of qualified and experienced experts. Furthermore, the process brings great value to the table by eliminating project and operational risks. The requirement can be for short-term or long-term engagements.
When you want to save costs related to hiring and training, EC-Council Global Services can help you to augment your existing resources. To illustrate, EGS meet augmenting requirements by bringing skilled and experienced staff to your teams to support your initiatives and respond to business objectives within a reasonably short timeframe. In just a few clicks, you can get your new talent onboarded in the shortest timeframe.
What reasons lead you to consider staff augmentation?
In case of a project-based requirement, you would waste a lot of time and money hiring full-time employees
If you think that your current staff augmentation talent is right for you, you would most likely be able to replace your current candidate with another in a short period of time. However, if you let go of a full-time employee, you may not be able to hire the right person for the job, immediately.
If your team is inundated with projects, hiring a full-time employee might take too long especially if you are pressed for time and skilled people.
For whom does staff augmentation required?
Enterprises that are not looking to hire a full-time workforce but want to improve its existing teams with dedicated experts with the right skillset for specific projects.
Enterprises that want to hire experts quickly, without wasting the same amount of time needed to employ a full-time employee.
Enterprises that want to minimize the business overhead cost that comes with maintaining employees for occasional projects
Why EGS?

EGS comprises of advisory and technical teams with years of corporate, field, and consulting experience in the field of information security. Identically, our accomplished team allows EGS to demonstrate a vast knowledge of industry standards, benchmarks, and best practices that assure the best solution being offered to our clients. Nonetheless, each consultant assigned to the clients is a noted and published expert in his or her respective fields. All in all, the sole focus of our practice is information security, and operational risk consulting and advisory the side-line interest of a general consulting company.
Additionally, EGS assigns a team of professionals' onsite and can make available a much broader team of exceptionally credentialed operational risk and resiliency experts. Eventually, the experts can be from business continuity management, IT disaster recovery, emergency and crisis management, cybersecurity forensics, and crisis media management strategy at our client's disposal, if required.
Broadly, EGS helps organizations protect and enhance enterprise value in an increasingly complex legal, regulatory, and economic environment. At the same time, EGS offers to consult professionals to help anticipate, illuminate, and overcome complex business challenges. EGS has the reach and expert resources located globally to provide our clients with broader expertise in this area.
How do we manage staff augmentation in Indonesia?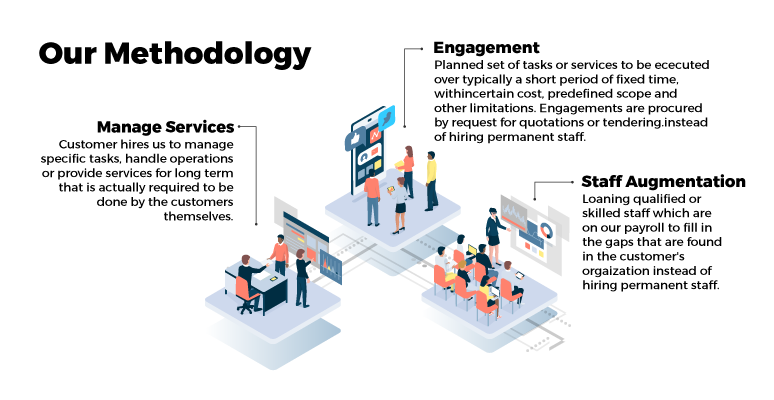 Albeit, when an organization determines a need to outsource a project, at the same time, it should also decide the kind of service that would benefit the business – staff augmentation or professional services.
Staff augmentation provides temporary human resources to support specific projects or regular IT needs. Hence, augmented staff reports existing department heads within the organization. On the contrary, professional services provide a team of skilled IT professionals for a specific project. During their employment, service providers will manage staff externally.
How EGS Staff Augmenting Service is different?
We are part of the world's leading cybersecurity certification body, EC-Council.
We have highly qualified and experienced advisory and technical teams dedicated to helping organizations all around the world.
We can help you avoid the headaches of searching and recruiting new staff, and most importantly, reduce your training expenditures.
We can help you to improve your employees' work management and efficiency.
We can help you to fill in critical positions in a short amount of time while ensuring a smooth handover.
EGS Achievements in staff augmenting service
Some of our clients include:
A leading insurer in Indonesia
A recognized insurance brand in Indonesia
A global insurance company
A central bank in Asia
A major insurance group in Indonesia
We're here to help!
Are you looking for more information? Or do you want to book a meeting?
Connect with an EGS Security Specialist